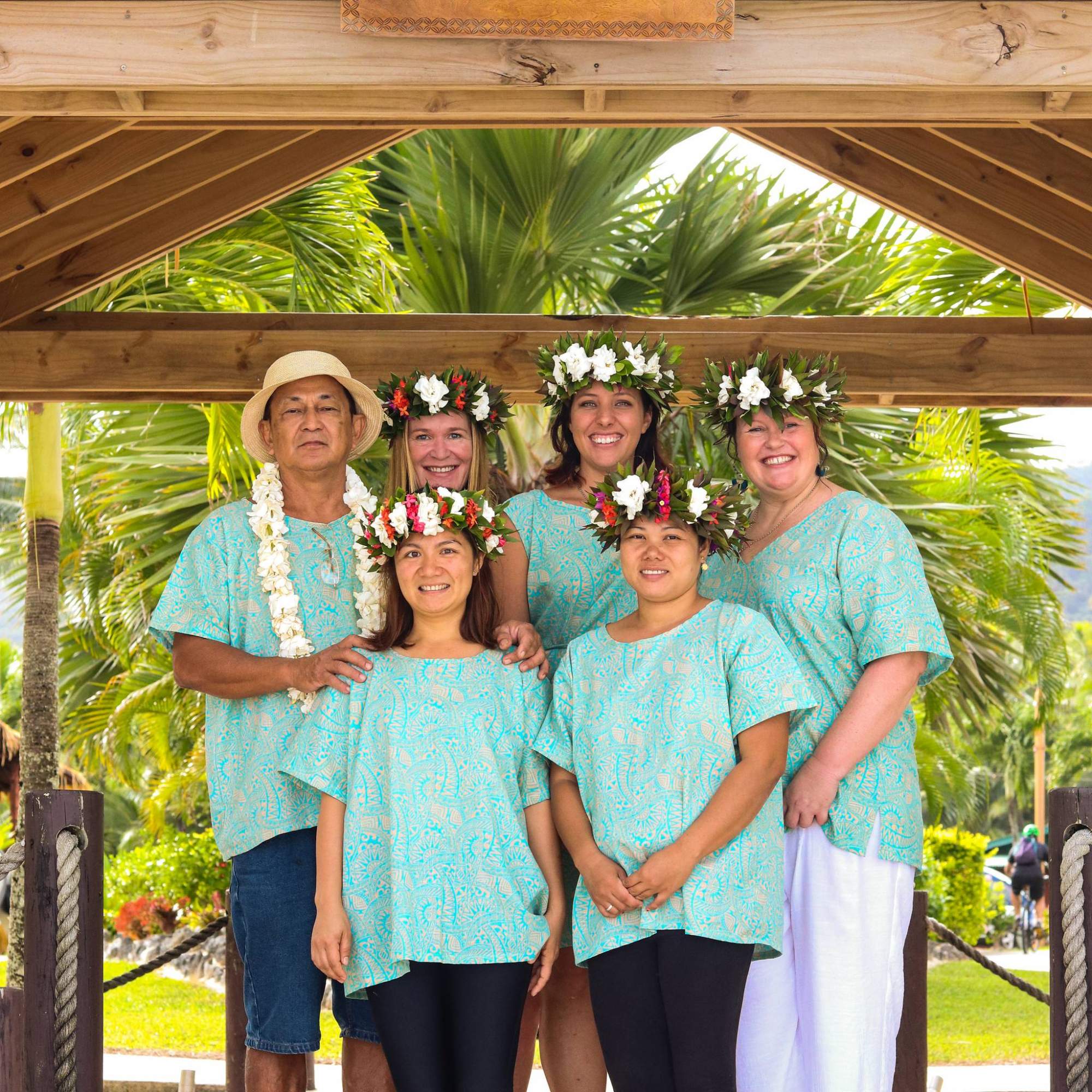 Gillian Francis – Resort Manager
Introducing Gillian Francis, our resort manager, whom you will see popping up at various moments during your stay. Gillian (you can call her Gill), along with Jayne, makes up our front-of-house – anything you need help with, Gill's your go-to. Originally from the Waikato in New Zealand with a background in broadcasting, Gillian is very committed to our guests' happiness and gets down to business with much enthusiasm! Gillian is also likes to lounge in the lagoon in her time off.
Jayne Kelly – Office & Reservations Manager
Our office and reservations manager keeps all the "behind the scenes" things kicking over smoothly. A resident of the Cook Islands for over 30 years, Jayne is a wealth of information about Rarotonga. She's your first port of call for restaurant recommendations, tour bookings, and general information about the island… what she doesn't know about Rarotonga hasn't happened yet! On her days off, you'll find Jayne welcoming visitors to her home for the entree course of the progressive dinner or enjoying time with her grandchildren.
Jing Aranjuiz – Maintenance Manager
Introducing Jing, our maintenance manager here at Magic Reef. Jing's hard-earned title of 'one-stop handy man' does not quite cover what it is that he can do! A casual observer may notice Jing loading a wheelbarrow with blooms from our tropical gardens, fixing bamboo on our traditional bungalows, or painting over a mended ceramic tile. As you imagine, this list is endless! When not saving the world, one task at a time, Jing can be found fishing at the beach…

Mili Moroivalu – Beauty Therapist
Originally from Fiji, Mili has lived in Rarotonga for over 12 years. A passion for wellbeing led Mili to studying massage and beauty therapy where she gained a diploma from the Australian based Academy of Beauty Therapy. Mili's local customers know she's the best on the island – and we do too! On Mili's time off, she's still busy with her 3 children!
Rowella Alemani – Housekeeper
Introducing Rowella, our housekeeper, who, takes great pride in servicing our rooms to the highest standard. You will often find her helping Jing in our beautiful tropical gardens. Rowella's favourite job is to source the fragrant flowers which make up the eis we gift to our guests. Originally from the Philippines, she tells us that she is very happy to be living in the quiet paradise of Rarotonga.